Along the Biscayne Bay from Coconut Grove to Coral Gables, enter a realm of unfettered luxury with few equals in the world of real estate.
Few places in the country offer up the opulence and jaw-dropping residential luxury found along Miami's waterfront. More than just homes, these palatial estates, compounds, and even high-rise hideaways represent the pinnacle of ultra-luxe, high-end living.
So just what can eight-figure investments and a taste for spectacular, over-the-top accommodations get you? It all depends if your imagination runs as deep as your pockets. Hidden waterfront gems can be found all along the Biscayne Bay from Miami Beach to Coral Gables. If you're ready to live your best life on the waterfront, here are five examples of the high-end luxury of Miami's waterfront homes.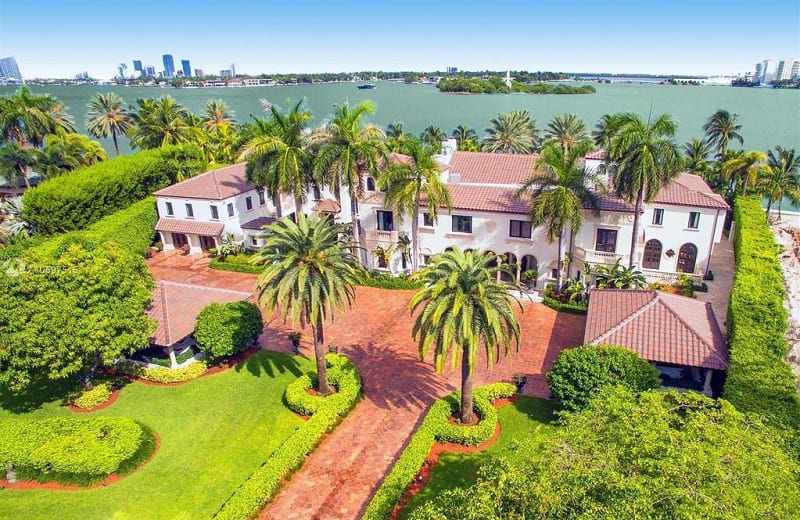 Credit: Realtor.com
46 Star Island Drive
Go big or go home, right? For the fortunate homeowner at 46 Star Island Drive, you go home to go big. Set on the northern tip of the exclusive Star Island community in Biscayne Bay, the home is one of the priciest in Miami's vaunted real estate market. Ten bedrooms, ten bathrooms, and over 18,000 square feet of wow.
This Venetian inspired home is a custom standout, originally built by Carl Fisher in 1924 and recently renovated to more modern standards. The home includes casual living spaces, formal hosting areas, and a number of specialty rooms, such as a very accommodating wine room, all of which showcase a glamorous lifestyle to all who pass through its gates.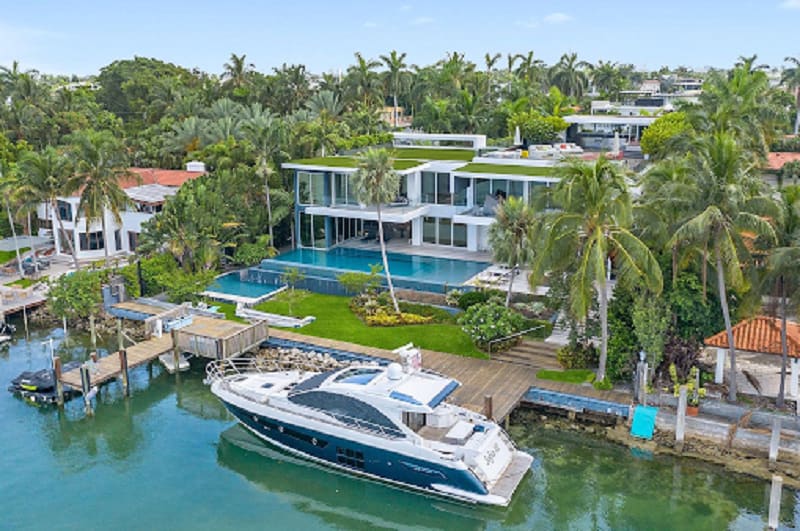 Credit: Zillow


370 South Hibiscus Drive
Another of Biscayne Bay's lauded island neighborhoods, Hibiscus Island is home to 370 South Hibiscus Drive, an 11,000-square-foot modern masterpiece that features something for everyone. Boasting perhaps one of the most spectacular private pools in all of Miami Beach, the home was designed by renowned architect Reinaldo Borges.
Taking full advantage of the location, the residence is the height of indoor-outdoor living. It includes an intricately manicured landscape, a next-level boat dock to house multiple watercraft, and a spacious rooftop terrace with commanding views of downtown Miami's glossy skyline.
6919 Sunrise Ter
You may think that the 150ft water frontage and beautiful design are the only features that make this estate stand out but you'd be wrong. This majestic property is located in a prestigious gated community in Sunrise Harbour on the Bay.
This impressive home sports an amazing layout filled with natural bright light and elegant details. Built spectacularly and made for entertainment, explore the many terraces throughout the house to enjoy the water views or head downstairs to the pool to watch the boats go by.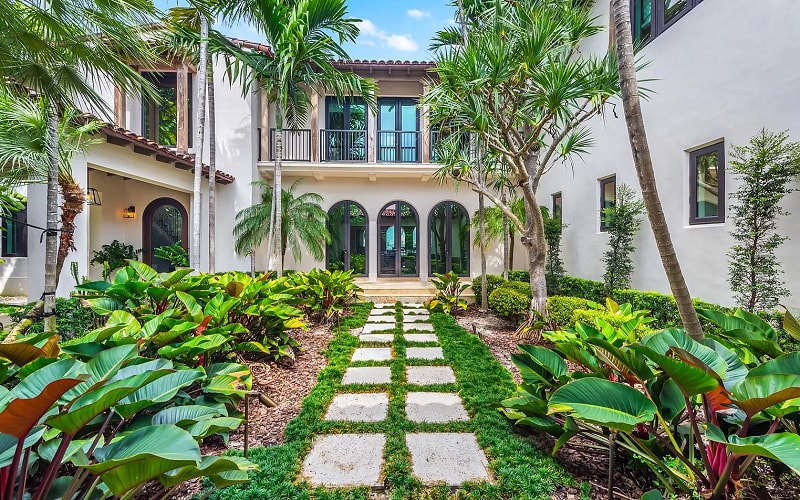 Credit: Zillow
5980 North Bay Road
Some of Miami's grandest homes are outfitted to welcome large crowds, with double-digit bedrooms, multiple eating areas, and a kitchen or two (or three). Others, however, are amenity-laden playgrounds with spaces designed for highly specific purposes. One such home is found at 5980 North Bay Road.
This 12,000-square-foot abode is set behind private gates. It includes a massive outdoor basketball court and playground, a large screen media room, a game room with a full bar, a swanky office, and a fully outfitted salon room that competes with Miami's finest hairstyle studios.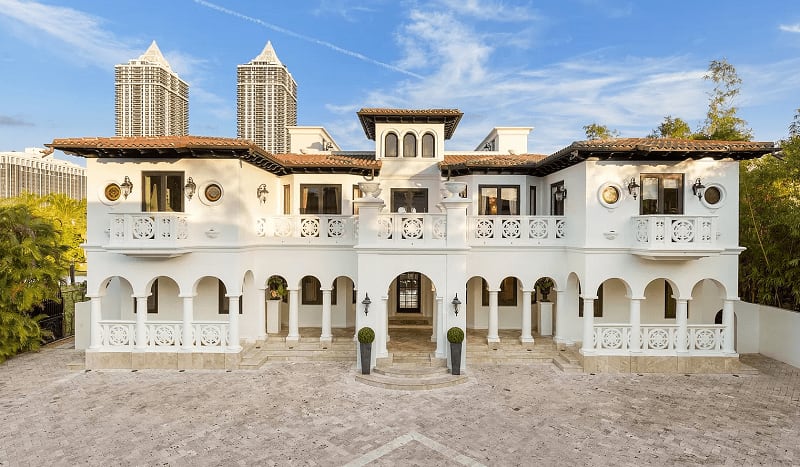 Credit: Zillow
4701 Pine Tree Drive
The allure of some Miami Beach homes stems not from their waterfront location but instead the striking profile they cast. Although it's not the biggest or priciest Miami Beach property, 4701 Pine Tree Drive stakes a bold claim as one of the city's most stunning. Arches and archways—over 100 throughout the estate—give this grand manor the feel of a Mederterrian castle.
The lot itself is over 44,000 square feet with more than 100 feet of frontage along Indian Creek; a pelota is near the Atlantic Ocean. Those archways lead you to the home's 12 bedrooms, 15 bathrooms, velvet-lined theater room, bar and billiards room, fully equipped salon, and out to the majestic pool and lighted tennis court.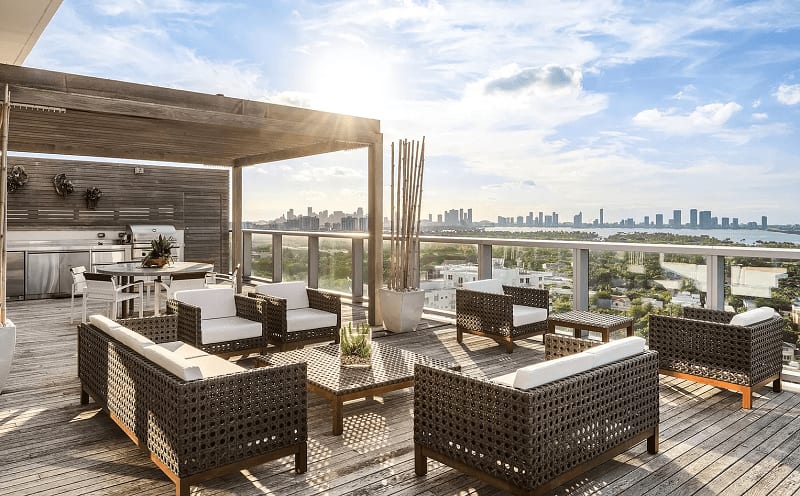 Credit: Zillow
2901 Collins Avenue, Penthouse 1602
Of course, not every waterfront residence in Miami Beach is a single-family home. A number of immaculately outfitted condominiums rule the skyline.
The Miami Beach EDITION Hotel
features residences atop the hotel and in an adjacent 18-story tower.
The most breathtaking is penthouse 1602—a four-bedroom, four and a half bath triplex that caps the tower development. The unit is otherworldly and boasts 20-foot ceilings, Atlantic Ocean and city views, and a 2,000-square-foot deck with a private, 36-foot-long lap pool.
Credit: Zillow
41 Arvida Parkway
Behold this sophisticated modern masterpiece sitting on a sprawling 54,014 SF unique, v-shaped point lot providing 574 of prime waterfrontage. This extraordinary residence designed by Ramon Pacheco features ever expanding views clad w/ premium finishes & fixtures.
Walls of glass showcase amplify the glory of curated outdoor spaces, endless open ocean & downtown Miami views. The one-of-a-kind Estudio Arque designed SICIS glass mosaic infinity edge pool is the very definition of opulence. Complete with a 140' boat dock that can accommodate up to a 200ft mega yacht, 5 car garage & captain's quarters.
Ready to live the good life and find your perfect piece of Miami luxury real estate?
Contact Jane Bark Barrellier
and the dynamic team at Miami Beautiful Houses. Allow us to be your Miami luxury real estate agent and guide to the best of Miami and its secret gems.